Precision Metal Fabrication
STATES MANUFACTURING'S PRECISION METAL FABRICATION
States Manufacturing is the ideal resource for any built-to-specification metal-fabricated product or component—whatever the industry, whatever the need. Large or small, simple or highly complex, if it involves cutting and bending metal, we'll make it.
Unlike many fabricators, we can handle prototyping and very small quantities. Whatever the quantity, we turn it around quickly and reliably. And we do it using the latest CAD/CAM technology, modern fabricating equipment and our in-house painting services, which combine to offer an extra measure of control and efficiency.
In fact, we have become such a reliable, cost-efficient source for our customers that some use us as their sole manufacturing and distribution facility.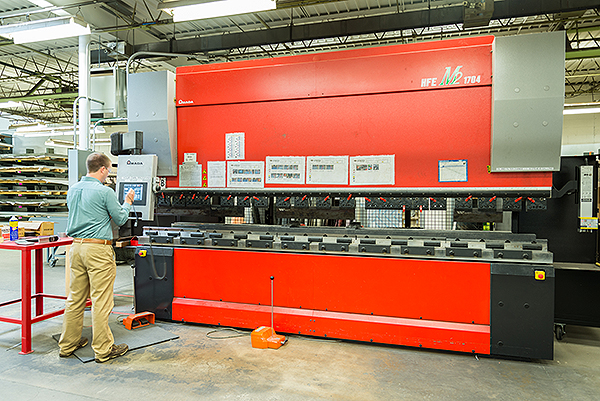 Materials
We work with a wide array of materials, including mild and stainless sheet and plate steel, aluminum sheet and plate, copper, bar stock, structural steel and tubing, as well as polycarbonate and other laminates.
Services
In addition to design-for-manufacturability engineering services, our complete in-house fabrication capabilities, including shearing, CNC laser cutting, saw cutting, CNC punching, stamping, drilling, tapping, CNC bending, spot welding, MIG welding, TIG welding, hardware insertion, finishing and painting, along with coordinated outsourced secondary operations, such as anodizing, plating and silk screening, provide value-added service to our customers.
Wall Plates
We fabricate wall plates in standard gang sizes, as well as custom non-standard sizes, from mild steel, stainless steel and aluminum, with finishes including powder coating, silk screening, engraving and etching, to meet our customers' requirements.
Prototyping
Our experienced staff adds value to our customers' product development and design processes by offering rapid turnaround, as well as innovative suggestions to improve quality, manufacturability and cost-effectiveness.
Our Sheet Metal Manufacturing Capabilities
Mazak CNC Laser

4000W Laser
Two cutting tables, 7ft x 13ft
Aluminum, Stainless and Mild steel capabilities up to ½" thick

CNC Press Breaks

Two Amada Press Breaks, up to 14ft. bend length, ½" thick material
One Cincinnati Press Break

AMADA CNC Turret

Custom Forming tools
Patterned tool punching
Formed Sheet metal designs

Certified Welders

Steel and Aluminum certification