ABOUT OUR COMPANY
Our mission at States Manufacturing is to make custom electrical and metal products that help companies in a broad spectrum of industries deliver better results for their customers. From control cabinets for traffic management, to switchgear for data centers and panelboards for the food processing industry, to fabricated metal components for healthcare and the high-end audio equipment market, we're here to help with the design, engineering, manufacture—even painting.
We're known as problem solvers who take personal pride in meeting challenging specifications with intelligently engineered, meticulously crafted products that we stand by, day in and day out, from the moment the equipment goes out the door throughout its life cycle.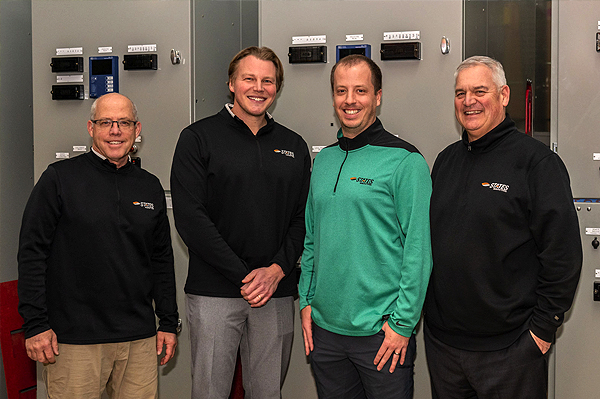 OUR HISTORY
Founded in 1924 by Anthony Shallbetter as States Electric Manufacturing Company, we have been a leader in the design, engineering and manufacture of custom electrical and precision fabricated metal products for over 90 years. Located in the Twin Cities metro area of Minnesota, we have expanded our reach greatly over the years, with customers and products in all parts of the world.
In 2010, we changed our name to States Manufacturing Corporation to better reflect the breadth and depth of our capabilities and the expanding markets we serve. Our ownership, management and top-notch, experienced workforce remain unchanged, as does the customer orientation, engineering expertise, quality, value and, most importantly, integrity that have become the hallmarks of our company over the years.
The values we've had from the start are still at the core of our operation today. We have always believed in using the latest and best technologies, continually updating our operation with state-of-the-art equipment and processes. On the other hand, there are some things that will never change. We engineer and manufacture every project with respect for the specifications, an eye on our customer's resources, and a commitment to quality and safety that every one of us takes personally.
We are proud to be a family business, and retain deep roots in our community. At the same time, we're excited about the growth of the company, the expansion of our capabilities, services and technologies, and the extension of our reach into global markets. We see a great future ahead, and look forward to working with our customers, both longtime and new, developing custom solutions to help them control product costs, land projects and capitalize on sales opportunities.